In this article we will explain step by step how to create a Spring and how to share it on your socials. We show you how it works in a few easy steps. Then we will show you the end result: a great teaser video in your own house style!

But first a quick word... What is a Spring?
The definition of a Spring is a video teaser of up to 60 seconds. In this teaser you hear a fragment of your podcast, supported by images: a 'wave line' that moves along with your audio in Springcast colours or a look that you have composed yourself.
Now that you know what a Spring is, let's get started! How to make a Spring.
Step 1: Select your episode
Click on the episode you want to tease. You can make several Springs per episode.
Step 2: Select audio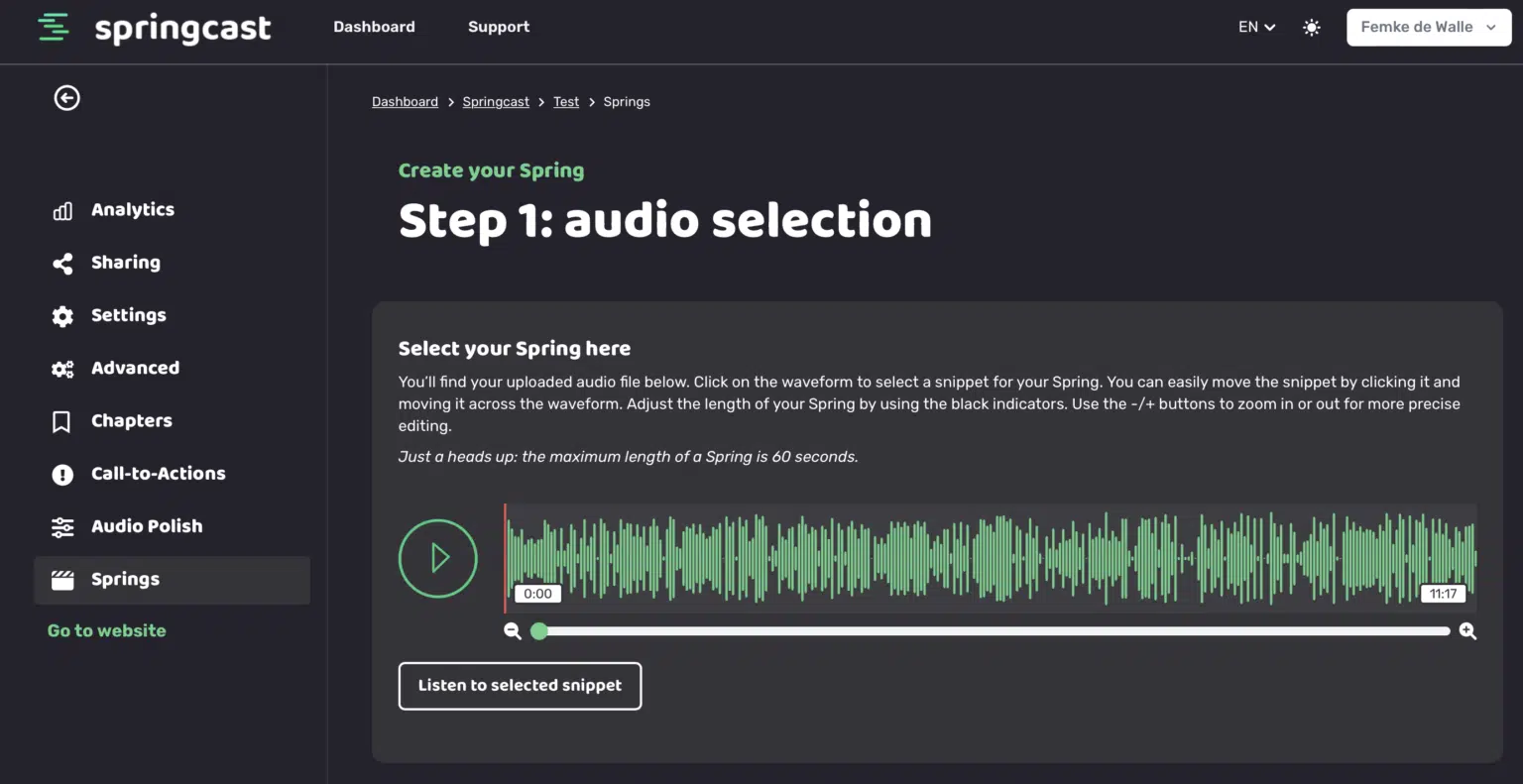 Before you can create your video, first choose the audio fragment you want to tease. This clip can be up to 60 seconds long. It doesn't matter how long your podcast is, because you can compile your clip down to the second. Use the zoom bar to zoom in and out so that you can edit your desired audio clip even better. To check the quality of your edit, listen to your selected clip with the button below your audio.

Satisfied with your edit? Then you can move on to the next step: creating your artwork.

Step 3: Add artwork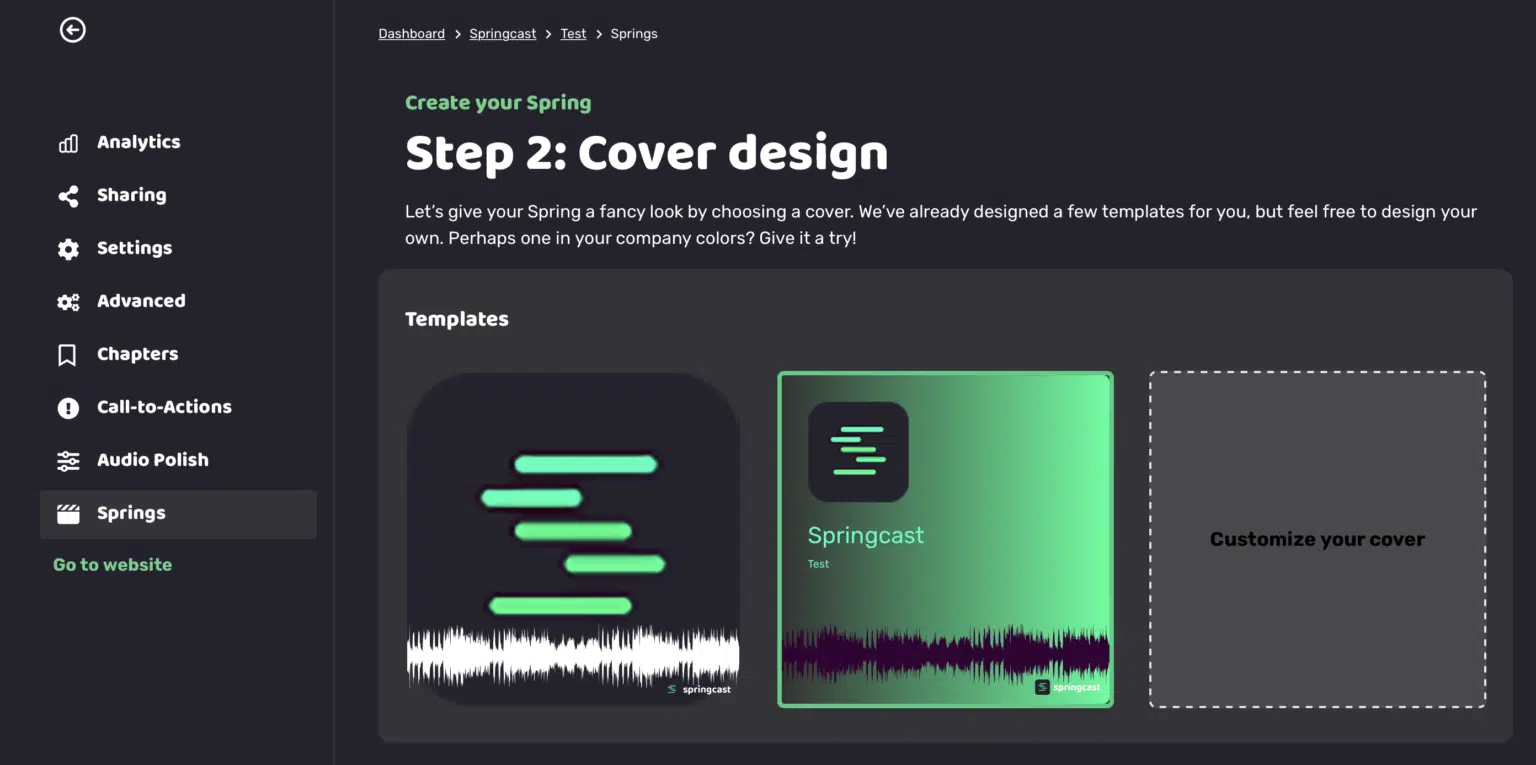 In this screen, you can choose what your Spring will look like. There are two templates available: the artwork of your podcast with a moving wave line in the image and the standard view with a solid colour or a gradient. You can use these templates as is.

You can also choose to design your own cover. With this option, you can design your Spring in the corporate colours of your podcast website. You can give the wave line your own colour, as well as the background colours and the title of your podcast.

You can also choose to have your podcast artwork fullscreen or smaller with your corporate colours blending into each other.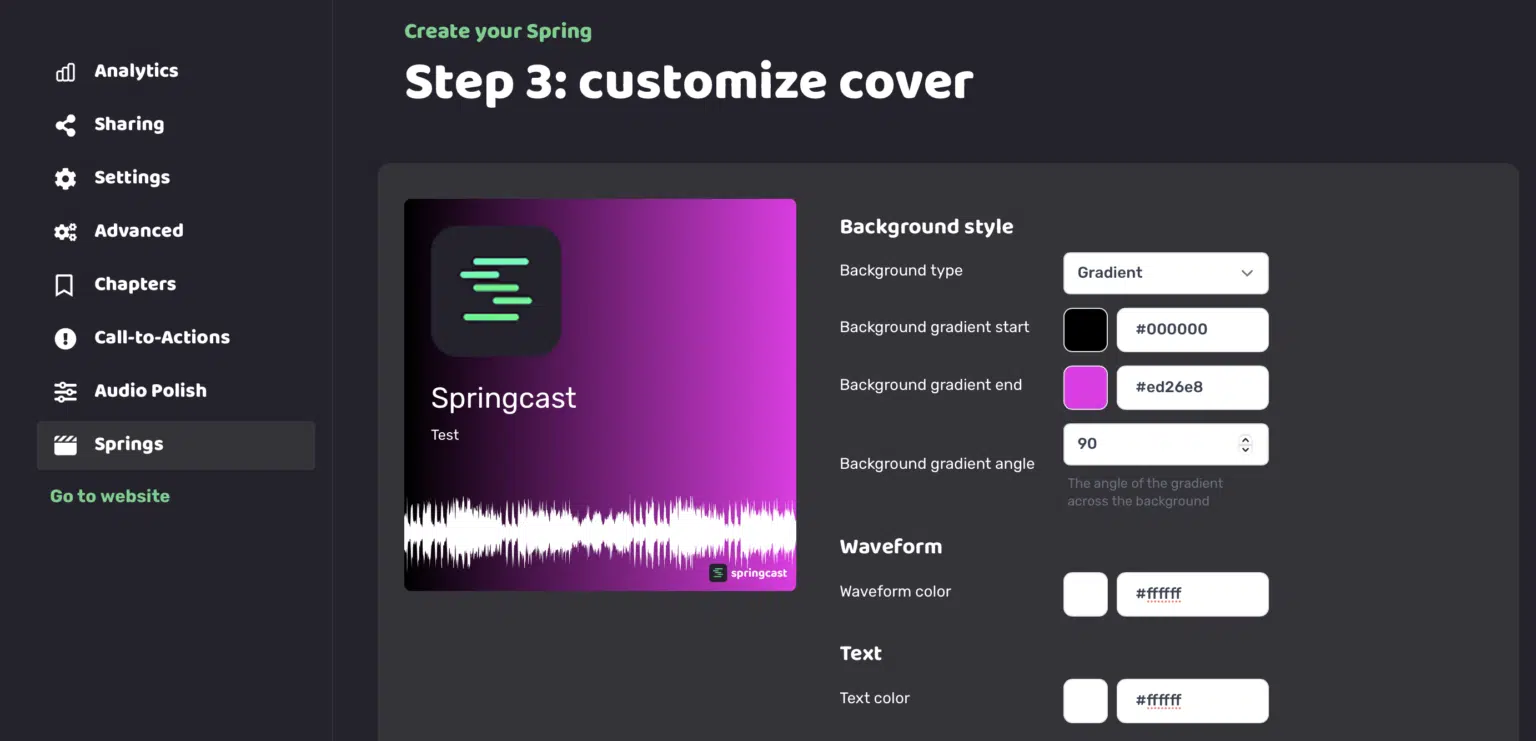 Finished customising your video? Then it's time to make your Spring!

Step 4: Generate and export video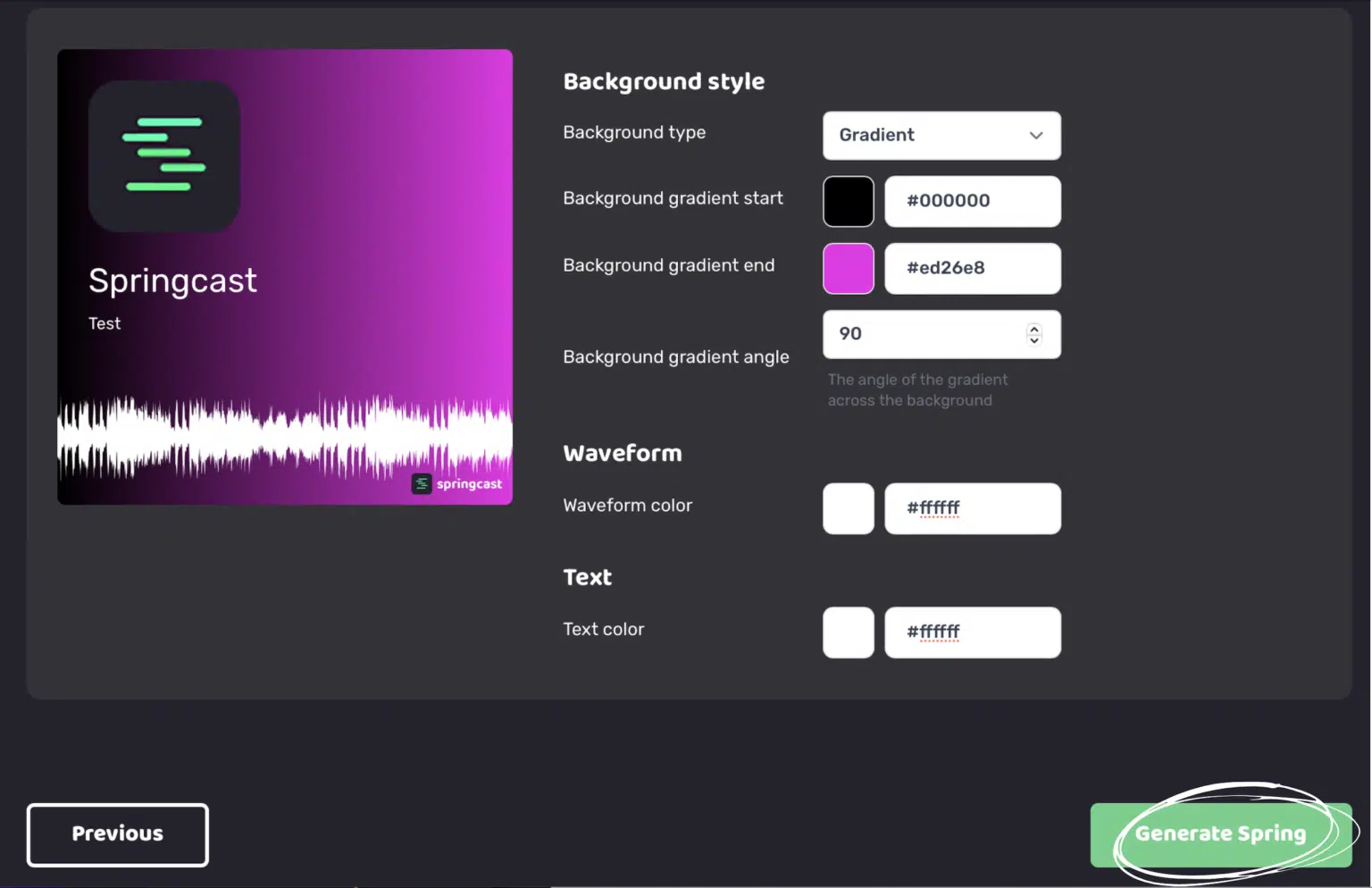 With one push of a button you can generate your Spring. Within minutes your video is ready to be downloaded and distributed on any channel.

And since time is precious, you can do something else in our app while generating your Spring. Your Spring remains in the queue and you receive a notification when it is ready.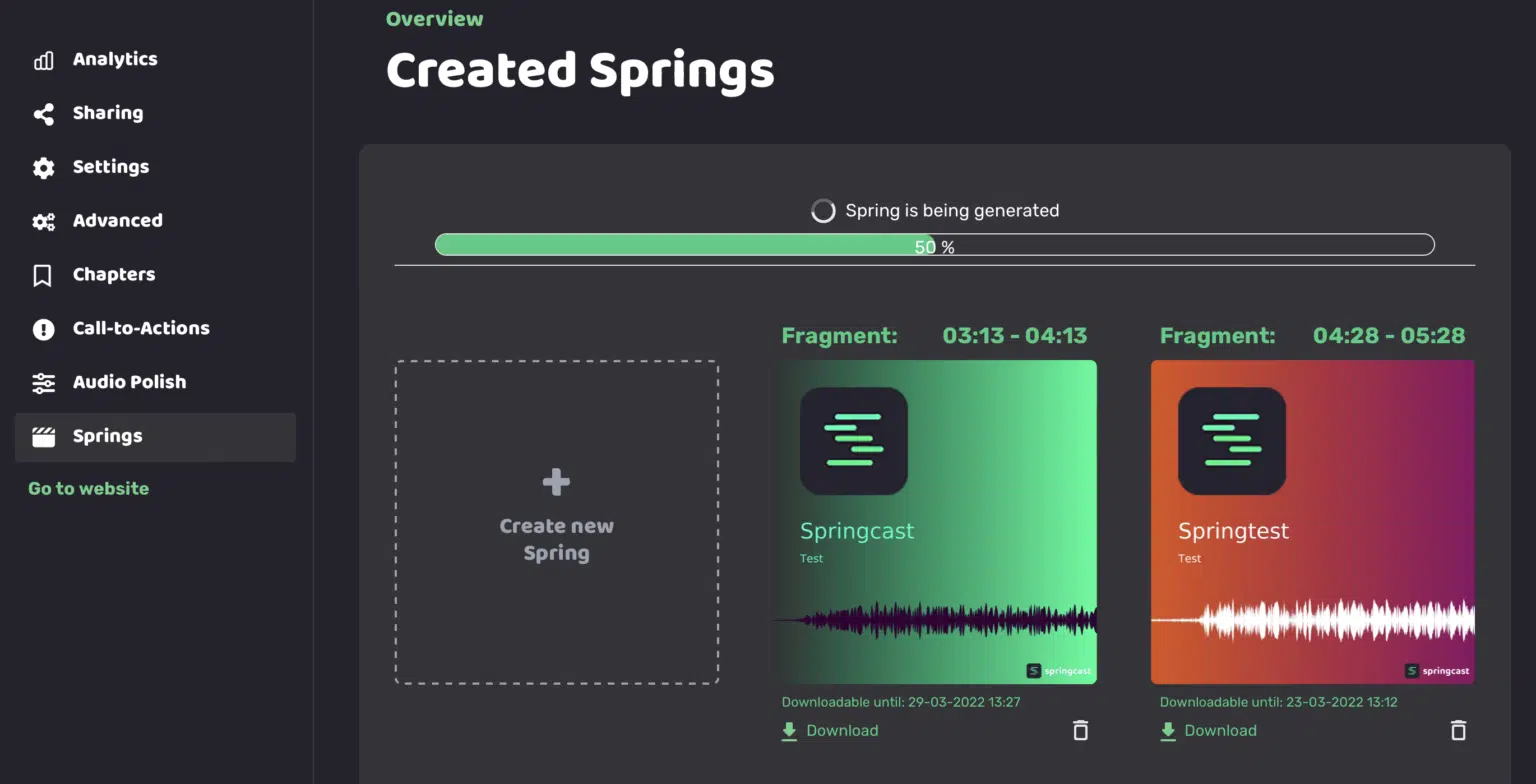 Step 5: Download and share
Once your video has finished generating, you can download it and share it on your socials! To give you an idea of the end result, we have made a Spring from one of our own podcasts:
Springcast
Insights which you can view
here
.

So you see: in a few simple steps you have a beautiful result! Super handy to give your podcast more exposure on social media. I think podcast marketing has never been this easy 😉 .