Once you've
added your first podcast show
, it is now time to upload your first podcast episodes. In this article we'll walk you through the process of uploading your first episode step by step.

It's important to know that you can only upload mp3 files.
The file can be as long as you want it to be. Size doesn't matter ;) Just make sure you download your mp3 file from a computer. You can't upload your file from a cloud. If you keep your files in a cloud, download them to your computer first before uploading them.

Follow the steps below in order to upload a podcast episode.
1. Adding an episode

Go to your dashboard and select the podcast show you want to add an episode to.
1. Make sure you've selected the 'Episodes' heading.
2. Then click on the 'Add episode' button
2. Upload and set up delivery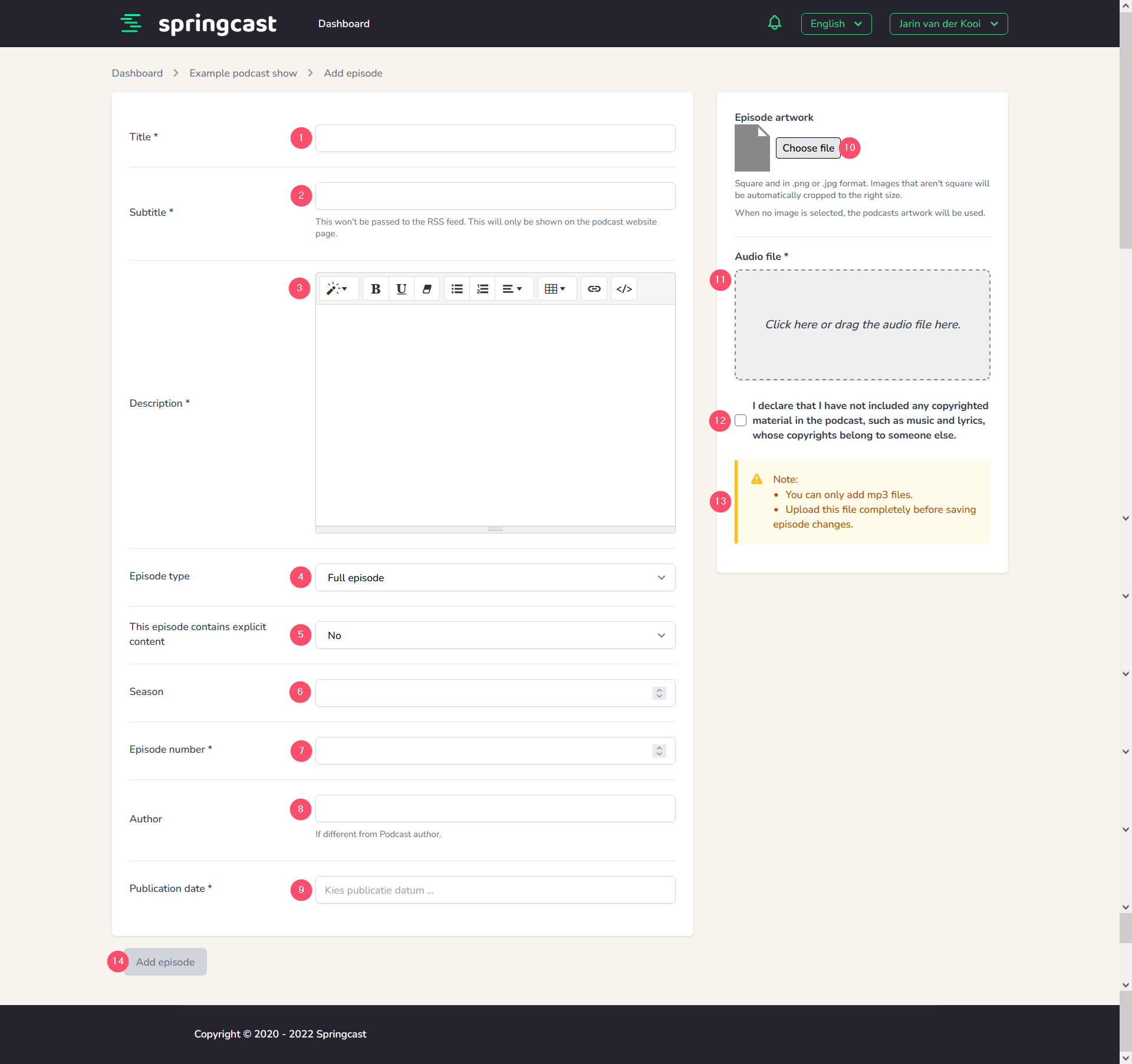 After you've selected "Add episode", you'll need to fill out this form in the screen above. We will guide you through this process step by step.
1. Submit a title for the episode of your podcast. To make sure your episode number is shown, start your title with the number of your episode. For instance: #1. Spotify hides episode numbers, so this way your audience knows which episode they're listening to. Apple Podcasts does include numbers, which means the episode number is shown twice in that app, should you choose to include a number in the title.
2. Submit a subtitle. This subtitle is used for your podcast website. It won't be shown in apps such as Apple, Google or Spotify.
3. Submit a description. This is a summary of what your episode is about. This description will also be visible on Spotify, Apple and Google. You can also add links to your website or social media accounts in the description.
4. Choose the type of episode. You can choose between a full episode, trailer or bonus episode. Note that the trailer is always the top episode (in Spotify).
5. Indicate wether the episode contains explicit content (swearing, adult content, etc).
6. Submit a season number. If you don't wish to work with seasons, just submit '0'.
7. Submit an episode number. Make sure to use a consistent order.
8. If the author of this episode is different from the author of your podcast show, submit that author here. If you are the author, just leave this field blank.
9. Choose a publication date for your podcast. This date will determine the order of the episodes in your podcast.

Note: if you upload several episodes on the same day, make sure you upload them in the same order you want them to appear in the podcast apps. In order to register your show with Apple, Spotify and Google (and get them to approve your show), make sure you've published at least one episode.
10. If you want customized artwork for your episode, you can upload the artwork here. Make sure your image is 3000 x 3000 pixels and preferably a .jpg or .png file. Also, make sure your file is not too large, Please not: not all players support episode-specific images, so in some cases your podcast show artwork is displayed instead of your episode artwork. If you want to use the artwork you've uploaded earlier in your 'podcast settings', which is your podcast logo, you don't have to upload anything here. Springcast will automatically use the podcast show artwork for your episode.
11. Now upload the mp3 file of the episode. Please note that this file can't be larger than 512 MB.
12. Check the box that says 'no copyrighted material is included' in the sound file. If you have added copyright material, you must be able to prove that you've paid for the use of the material (e.g. via Buma/Stemra).

13. Note; the mp3 file must be fully uploaded here.
14. After you've checked to see if you've filled out everything accordingly, select 'Add episode'.
The episode has now been added and is ready to be distributed to directories, such as Spotify, Apple, Google and Stitcher. Once you've registered your podcast there, your podcast episodes will automatically be added in those directories.
Want to know how to register your podcast on Spotify, Google, Apple, etc.? Check out our
podcast distribution
knowledge base for instructions.