When you host your podcast with Springcast, we automatically create a website for your podcast. This website is not only great for your audience to be able to listen to your podcast, it is also essential if you want to publish your podcast on Apple, Spotify or Google.

The podcast website we create for you is excellent when it comes to SEO, which means your podcast will pop up sooner in search engines like Google. And the best part is: you don't have to put any effort in creating this website. Just upload your content and we'll take care of the rest. Should you want to change the look and feel of your website: that's possible too. You can customize your podcast website using your company colors.

In this article we'll tell you how to set up your website language, how to customize your branding and how to add links to your podcast website. We'll give you some information about newsletter integration.
1. Setting the language of your podcast website
Your podcast website can be set up in the following 10 languages:
Dutch
Danish
English
Spanish
French
Portuguese
Italian
Norwegian
Swedish
Changing the language is easy:
1.
Login
to your Springcast app
2. Select 'podcast website' on the left side of the screen
3. Select the language of your choice under 'podcast website settings'
4. Select 'save changes' (you'll find the button below)
2. Adding links to your podcast website
If you want to be successful in podcasting, it is important to add links. Link building is very important if you want to increase the popularity of your podcast. Add links to for instance Spotify, Google, Apple and YouTube so your audience can listen to your podcast on those platforms.

You can also add links to your socials so people can follow you and become regular listeners. You can add all links in the field below, under 'podcast website'.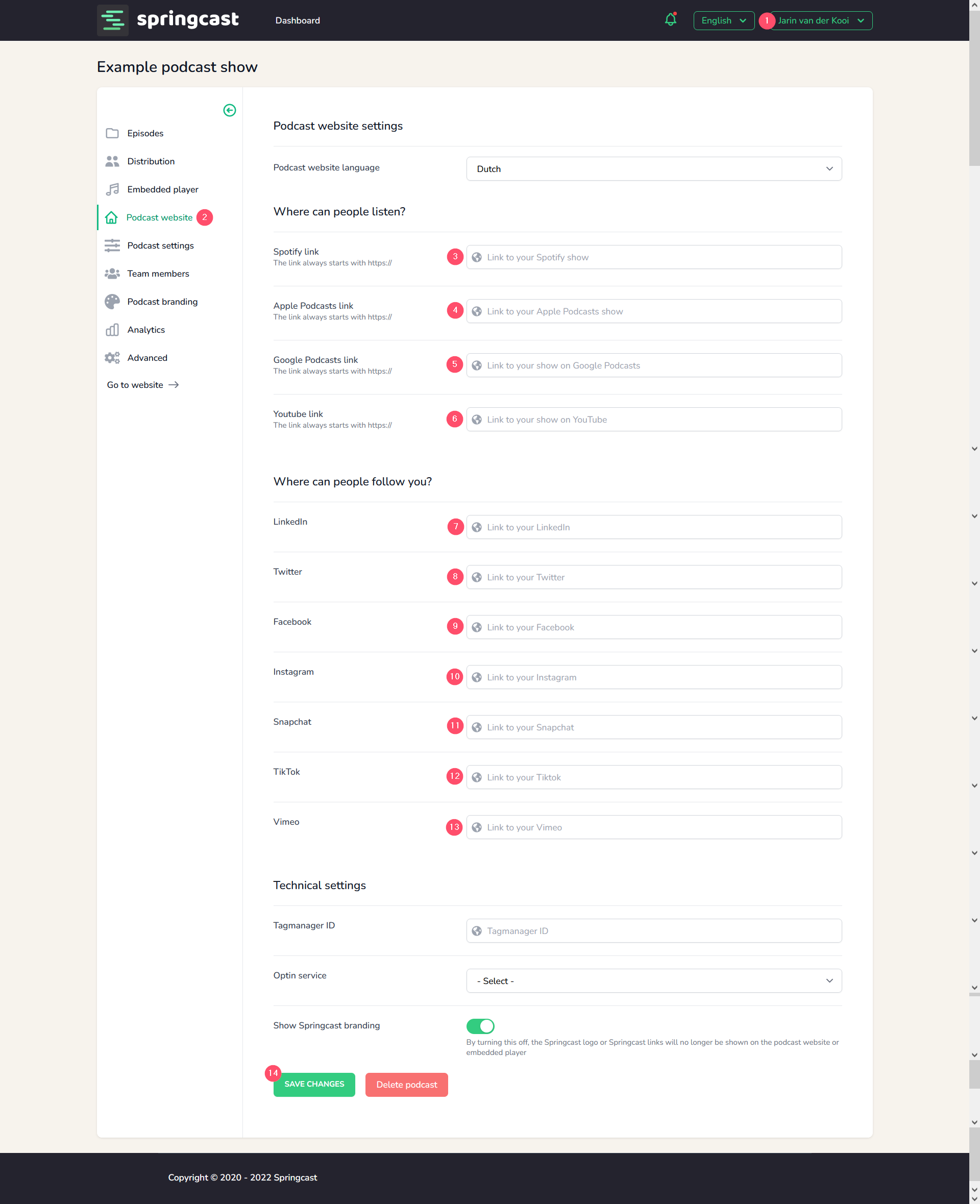 3. Designing/branding your podcast website
If you host your podcast with an Advanced, Growth or customized package yo'll be able to customize your podcast website with your own branding. We'll guide you through how this works step-by-step.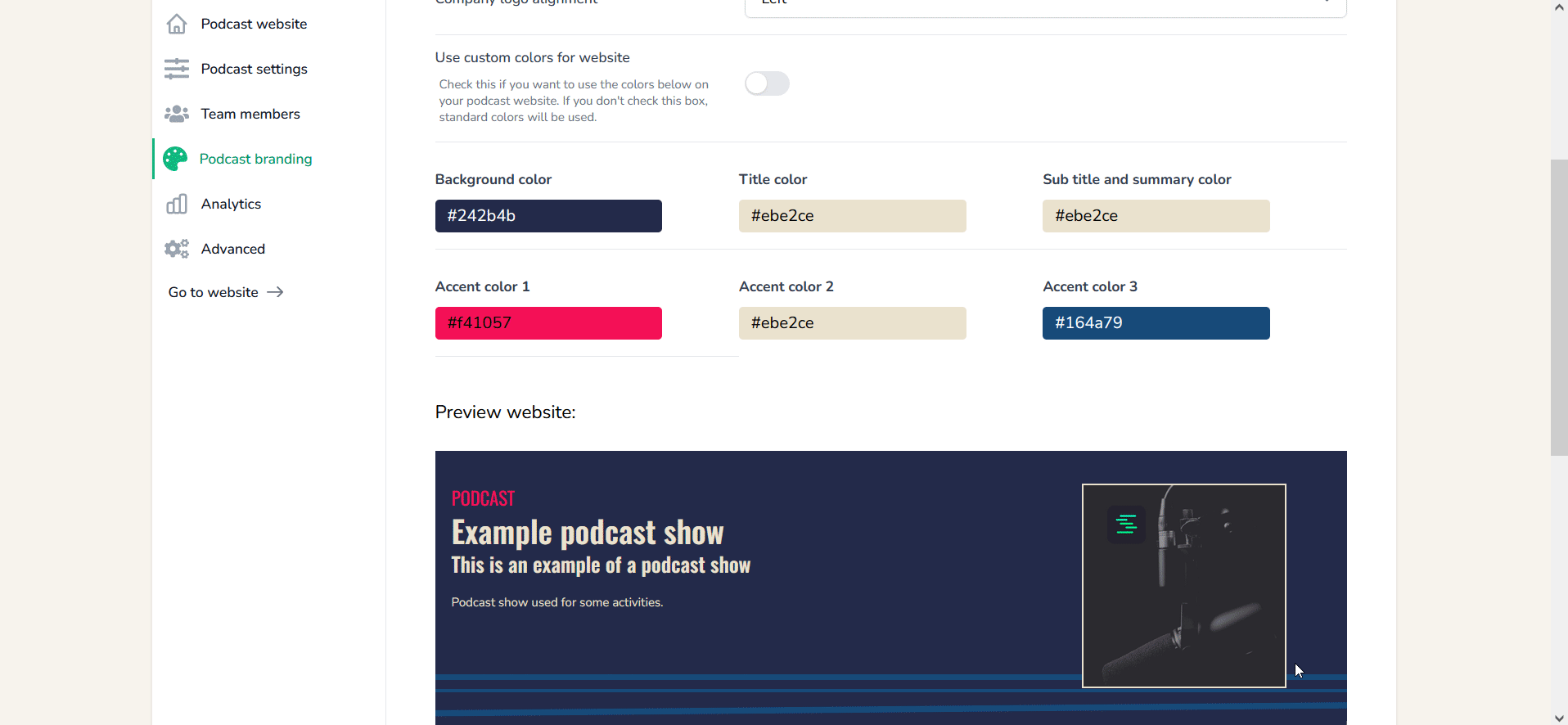 1. Select '
podcast website'
2. As you can see in the GIF above, you can easily change the colors of your website. You can also customize the colors of
your embedded player
3. Activate your custom colors by switching the
Use custom colors for website
button 'on' (see example below)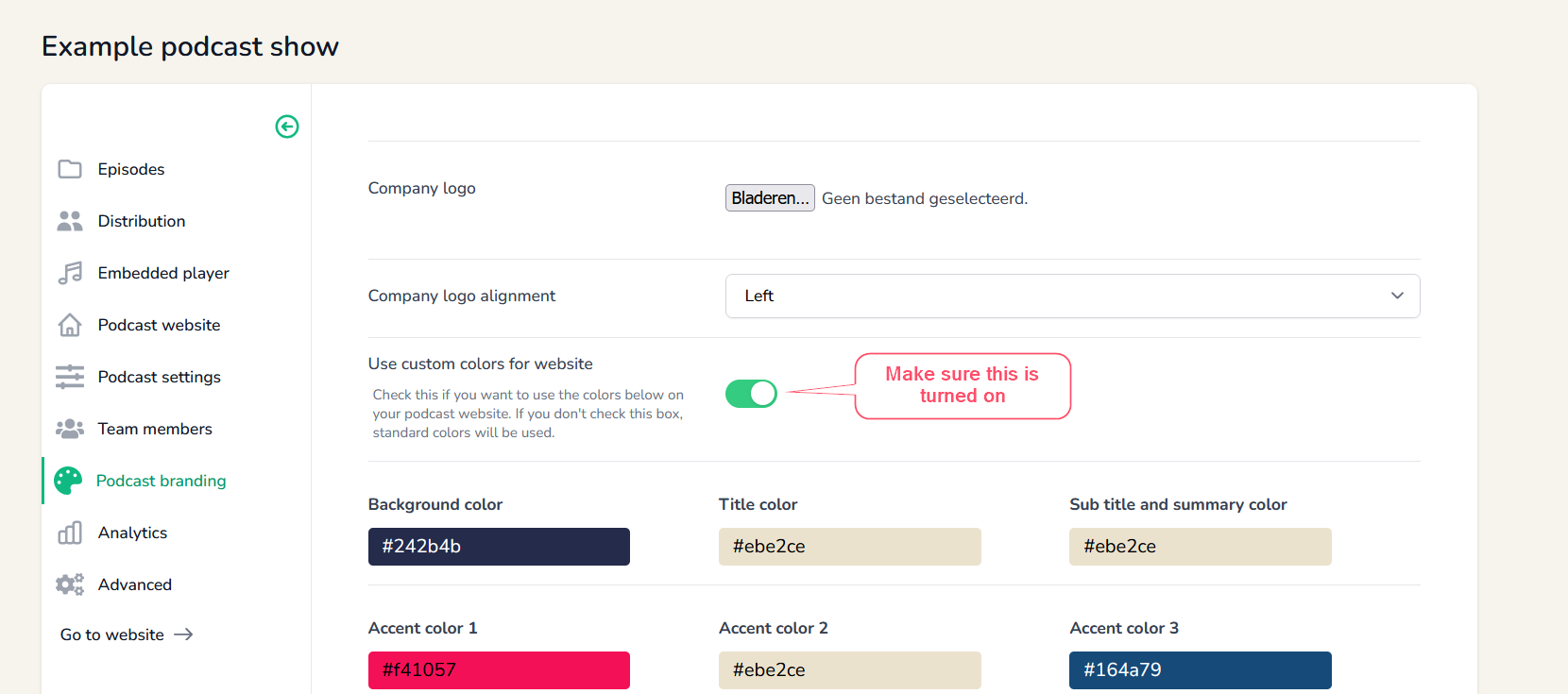 4. Want to hide the Springcast logo on your podcast website? Make sure you upgrade your Springcast account to our Growth package. With our Growth package you can turn the Springcast branding off by switching the 'Show Springcast branding' button off. You can even run your podcast website on a domain of your choice. Once you've registered your domain, we can move your podcast website to that domain. Once again, this is only possible with a Growth package.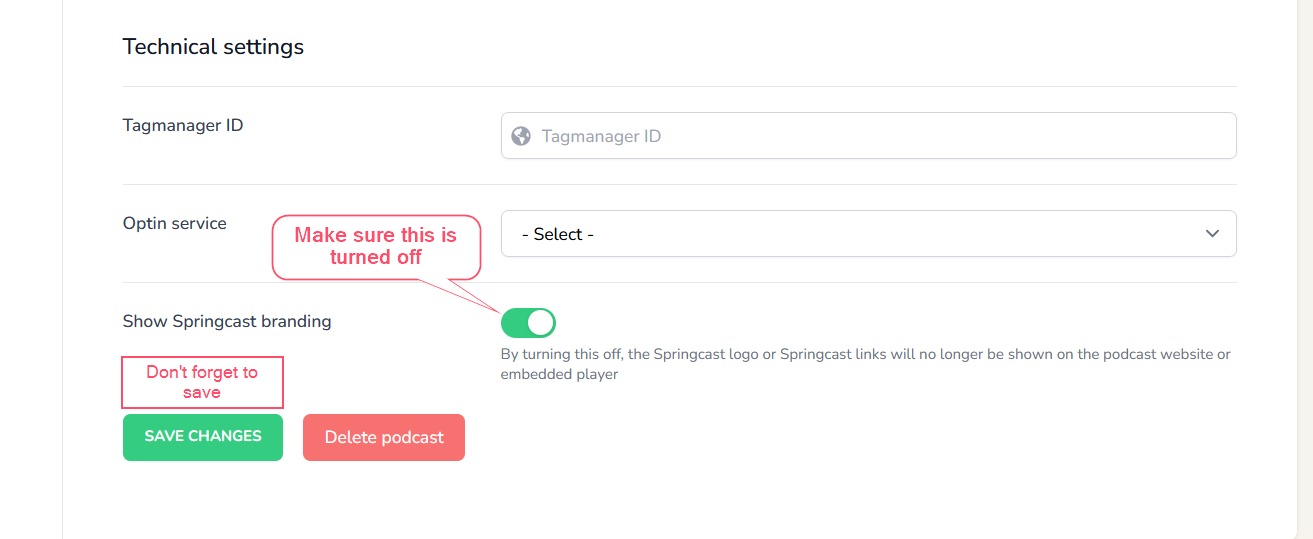 4. Newsletter integration - set up optin service
We offer Newsletter integration starting from our Advanced package. This allows your audience to subscribe to your newsletter. You can create and distribute your newsletter with our newsletter too. We're currently supporting the following integrations:
Mailchimp
Active Campaign
Mailerlite
MailBlue
Hubspot *
You can set up the Optin service for your Newsletter by taking the following steps:

1. Go to 'Podcast website'
2. Select the desired Optin service by going to 'technical settings'
3. Fill out the fields as shown below. Under the fields we provide you with information on how to find the necessary info in your Newsletter tool.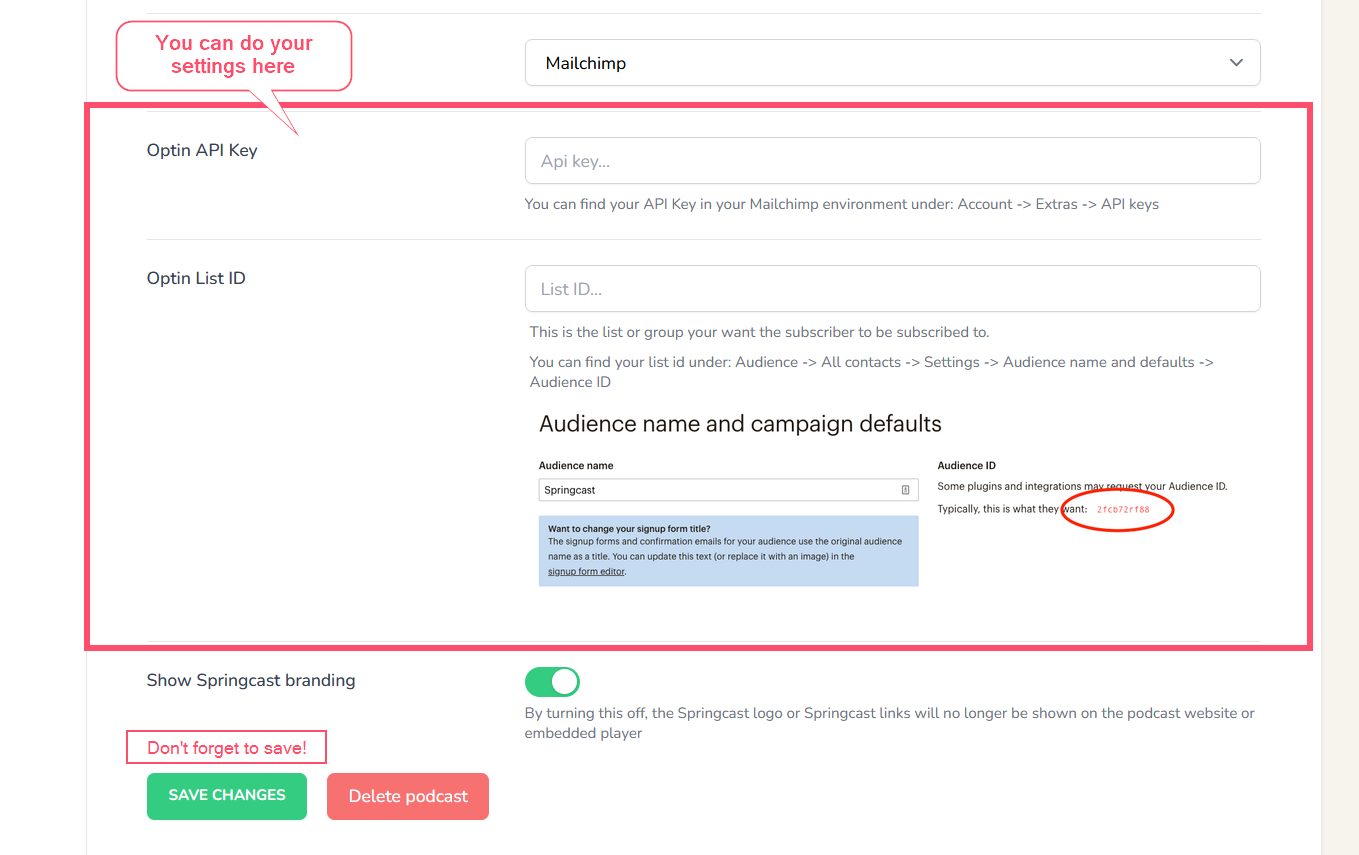 4. Select 'Save changes'
*HubSpot integration
To use the integration with HubSpot, you must create a private app within HubSpot. You do this in the following way:
Login to your HubSpot account
Go to "Settings" (cog on the top right of the page)
In the left menu, go to Account Setup > Integrations > Private Apps
Click "Create a private app."

Give your app a good & unique name
Add a logo & description if you wish
Under "Scopes" give the private app the following permissions under the heading "CRM":

crm.lists => read & write
crm.objects.contacts => read & write
crm.schemas.contacts => read & write
crm.schemas.custom => read & write

Then copy the access token and enter it in the "Optin API key" in your podcast website settings
Congrats! You're all set :) As you can see there are a a number of possibilities to contribute to the success of your podcast using your podcast website.

Happy Podcasting ✌️