In this article we'll show you how to upload your podcast to Spotify. Therefore, uploading your podcast on Spotify is a smart move.
And that's where we come in. Because in order to do that, you need a
podcast hosting
;D. At Springcast, we take care of podcast hosting, so all you have to do is create your podcast and distribute it to Spotify, for example.
Uploading a podcast on Spotify in 4 steps
Uploading your podcasts on Spotify is simple and will only take a few minutes. Just follow the steps below and you'll have your podcast up and running on Spotify in no time.
1. Copy your unique podcast RSS feed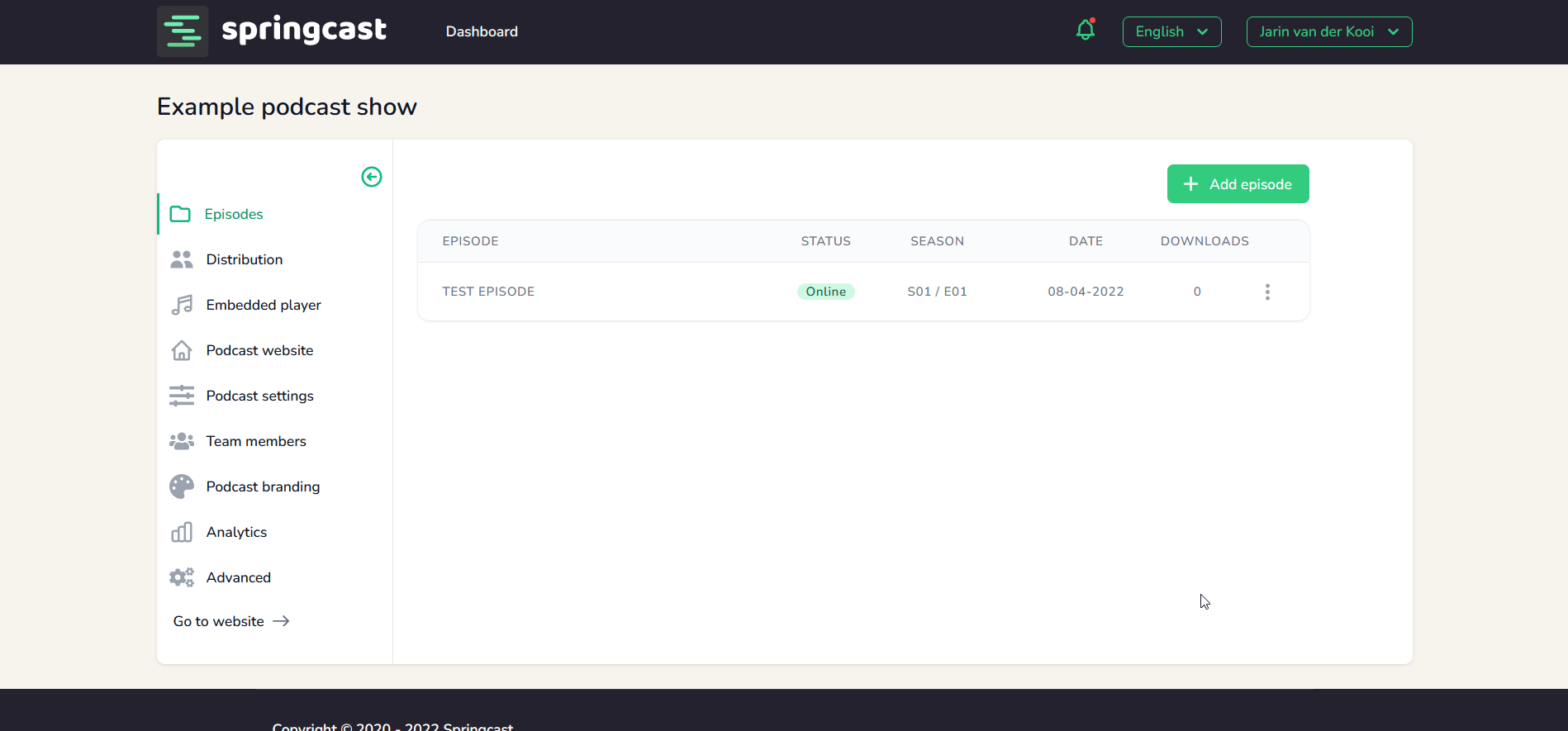 Every podcast you create within Springcast has its own unique RSS feed. Before uploading your podcast, copy this feed to directories and players, such as Spotify.

1. Go to your Springcast account
2. Select the podcast you want to submit to Spotify
3. Select 'distribution'
4. Click 'copy' (this button is located right next to the link)
2. Go to Spotify for podcasters


Spotify has a special environment just for podcasters, where you can find more information and submit your podcast. You will need to have a Spotify account in order to do this.

Please read the following steps carefully.
2. Do you already have another podcast on Spotify and therefore already have a Spotify for Podcasters account? Then click 'log in' in the top right corner and log in. If you don't have a Spotify account yet or want to create another account to sign up for this podcast (e.g. because you don't want to use a private Spotify account or because you want to manage several podcasts separately), click 'sign up'.
3. Do you choose 'log in'? Then in the next screen, under 'Where's your podcast hosted?', choose 'Somewhere else'. Then log in with your account. Do you choose 'sign up'? Then in the next screen, under 'Which best describes you?', choose 'I have a podcast'. On the next screen, under 'Where's your podcast hosted?', choose 'Somewhere else'. You can log in with an existing Spotify account or create a new one by scrolling down and clicking 'Don't have an account yet? New Spotify account'.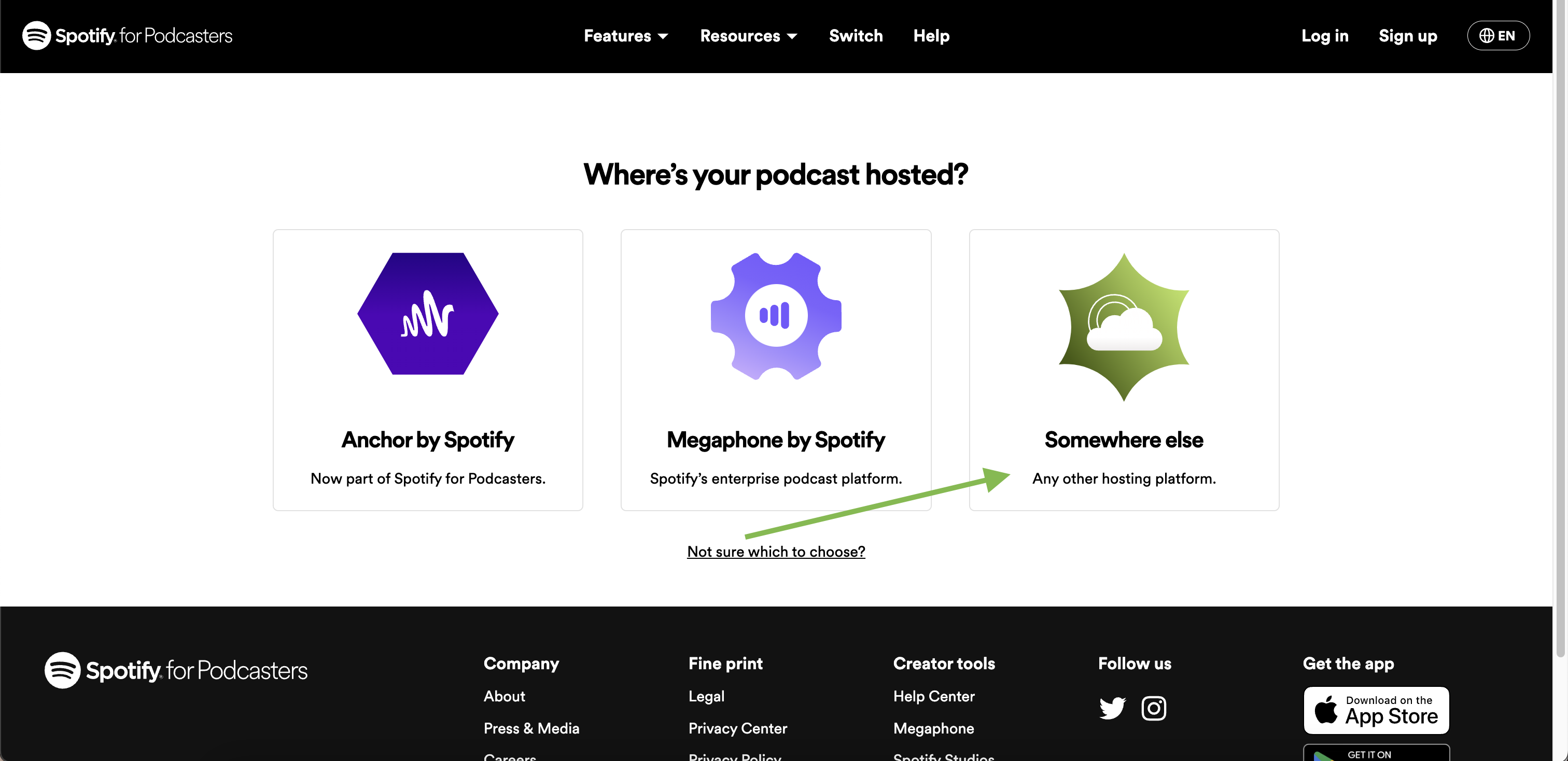 4. Click on 'Get started'
3. Submit your Springcast RSS feed

Now you can submit your Springcast RSS feed. Spotify will automatically check if all information is submitted correctly. If there are any errors, Spotify will flag them here.

NOTE: in order for Spotify to approve your RSS feed, you will need to add at least one episode and a public e-mail address. Make sure you use the same e-mail address you've submitted to the 'podcast settings' of your Springcast account. Spotify will use this e-mail address to contact you.
Below you'll find an overview of the steps to take.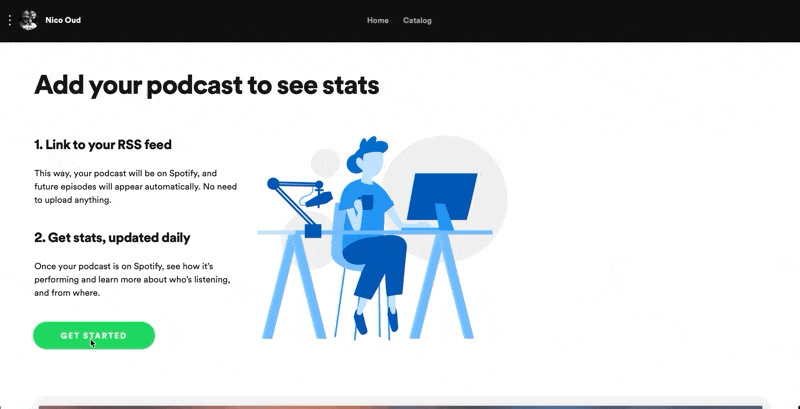 4. Tell Spotify more about your podcast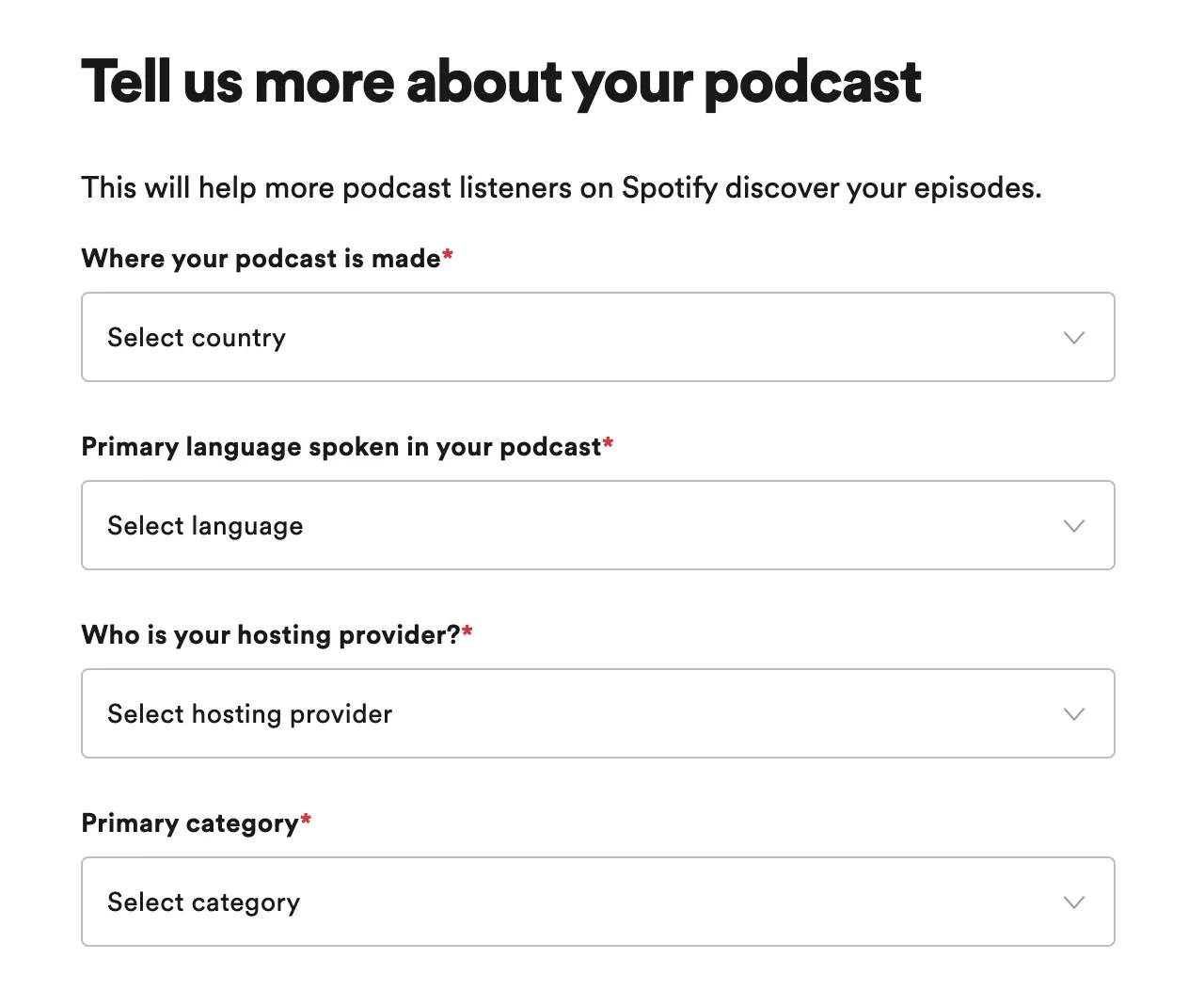 If your podcast RSS feed is approved by Spotify, Spotify will ask you for more information about your podcast. Submit the relevant information, select Springcast as your hosting provider and select 'next'.
1. Submit data
2. Select 'next'
3. Check data
4. Select 'submit'
If you complete these steps, Spotify will review your podcast. If your application is approved, your show will be live on Spotify.

NOTE: this process can take up to seven days to complete.
Most frequently asked questions
Most podcast players or directories use a simple login process which can usually be completed without any problems. In exceptional cases, an error may occur. In this case,
please contact our support.
Still have some questions after uploading your podcast to Spotify? Follow the links below to read articles that may answer your questions…
Easy uploading with Springcast
At Springcast, we are always aware of Spotify's conditions for uploading a podcast.
Creating your podcast with Springcast is easy. Not only do we take care of the hosting and distribution of your podcast, we also provide you with Spotify statistics in our Basic and Advanced Analytics Suite.