In this article we'll explain how to change your RSS feed at Spotify. Say you've registered your podcast show with Spotify, but you want to change your RSS feed because you've moved to another podcast host. In order to make sure you're podcast is still visible on Spotify, you need to take the following steps below. This way you're audience can keep listening to your podcast and your show statistics won't get lost.

IMPORTANT: Do you want to adjust your RSS feed because you moved from Anchor (now Spotify for Podcasters) to Springcast? Probably, with the posting of the redirect (Anchor feed to Springcast feed), it is no longer necessary to adjust your RSS feed. Still, always check that the correct RSS feed is in your account and change if necessary (see step 2 in this article).

NOTE: After changing your RSS feed, the
episode level statistics
in Spotify for Podcasters will be set to 0. If you want to keep these statistics, make sure you make an export before you edit the RSS feed. Your general show-level data, such as streams, listeners, and followers, will be retained after you change the RSS feed.
Before you start, make sure you've filled in all the necessary information about your podcast in your Springcast app.
Step 1: Your RSS feed at Springcast
Copy the unique RSS feed of your podcast by following these steps below:

1. Go to your Springcast dashboard
2. Select the podcast show you want to edit in Spotify
3. Follow the steps in the picture above:
4. Select 'distribution'
5. Select 'copy' (this button can be found right next to the RSS feed link)
Step 2: Adjust RSS feed in Spotify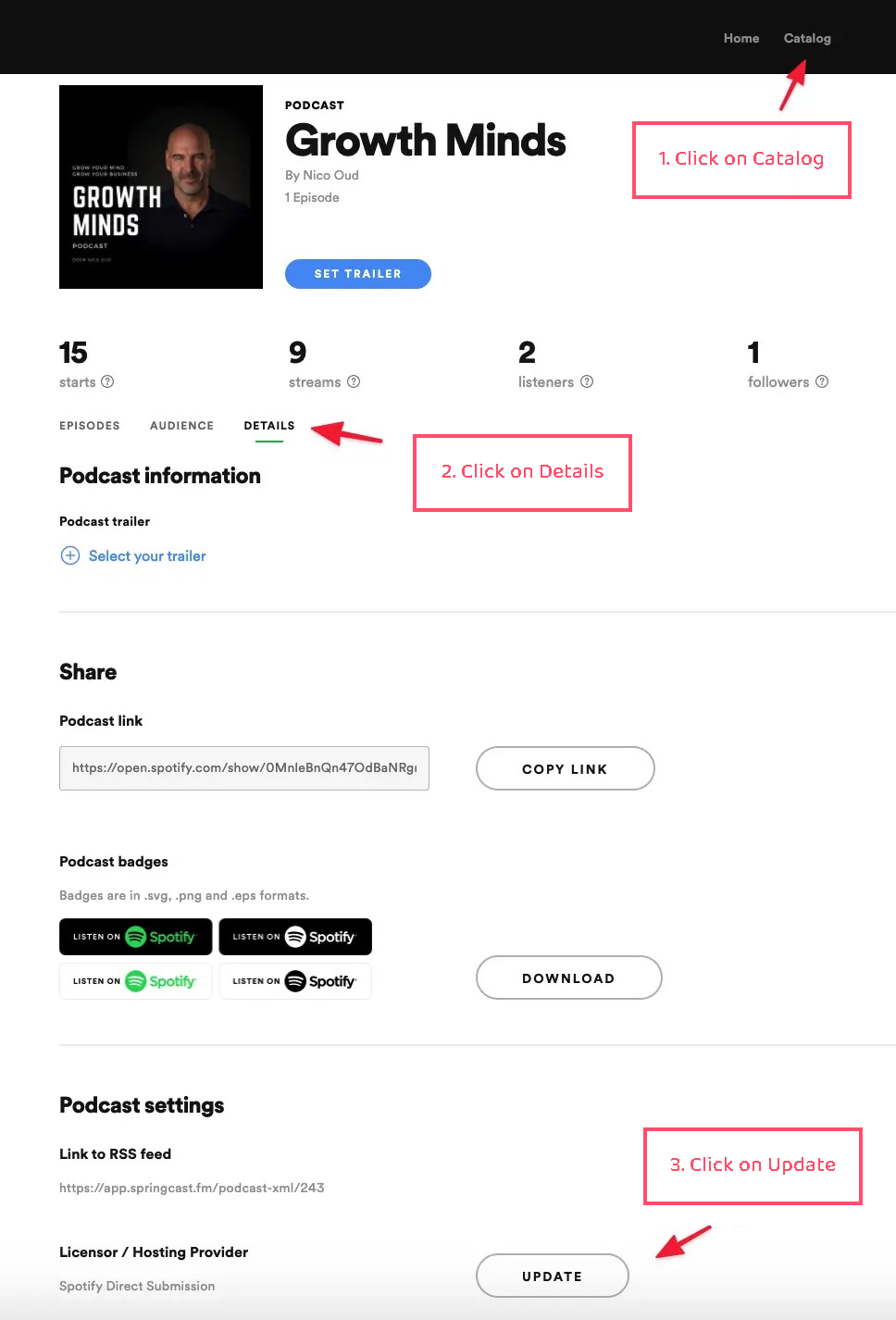 1. Now go to https://podcasters.spotify.com/
2. Go to 'log in'
3. Choose 'Somewhere else' (under 'Where is your podcast hosted?')
4. Click on 'catalog'
5. Click on the podcast
6. Now click on 'details
7. Scroll to 'podcast settings
8. Click the 'update' button to paste your unique podcast RSS feed there and click 'next'.
9. Select Springcast as host

NOTE: It may take a few days for Spotify to pick up your new link. This shouldn't affect the episodes that are already in Spotify. Your new episodes should be visible a few days later.
If you follow the steps above correctly, your statistics will be preserved and your audience won't notice anything of your move.