Some podcast hosts allow you to automatically distribute your podcast to apps like Google, Spotify and Apple. But if this is done by the podcast host, how do you still get access to the app's dashboard? By claiming ownership of your podcast you gain control over how your podcast is displayed and have access to podcast statistics. Should you decide to move to a different host, for example, it is important to submit the correct RSS feed to Google, Spotify, Apple or any of the other apps.

Note: If you've chosen to distribute your podcast yourself, you don't need to go through these steps. This is because you've already registered your podcast with the distribution apps and have therefore already claimed it.
How do you claim ownership to a podcast that has been distributed by the host? Here is a step-by-step plan for Spotify.

Tip:
First of all, check which e-mail address is linked to your RSS feed. You may need it in case Spotify wants to send you verification codes. You can check the linked e-mail address in your host's dashboard menu. You can also open the RSS feed in a browser to see which e-mail address is linked.



Important:
Do you want to move your podcast from Anchor (now called Spotify for Podcasters) to Springcast and want to claim the podcast because then you can pass on your move? Anchor recommends setting up a redirect first and then claiming your podcast using the steps below.
Read here how to easily move from Anchor to Springcast.
Claiming ownership on Spotify
2. Do you choose for sign up? Then click on 'I have a podcast' in the next screen. In the next screen, under 'Where's your podcast hosted?', click 'Somewhere else'. Log in with an existing Spotify account or create one by clicking 'Don't have an account yet?New Spotify account' at the bottom of the page. You can also create a Spotify account on this page. Preferably choose an account with the same e-mail address as in your RSS feed.


Would you like to log in? Then click 'Somewhere else' under 'Where's your podcast hosted'.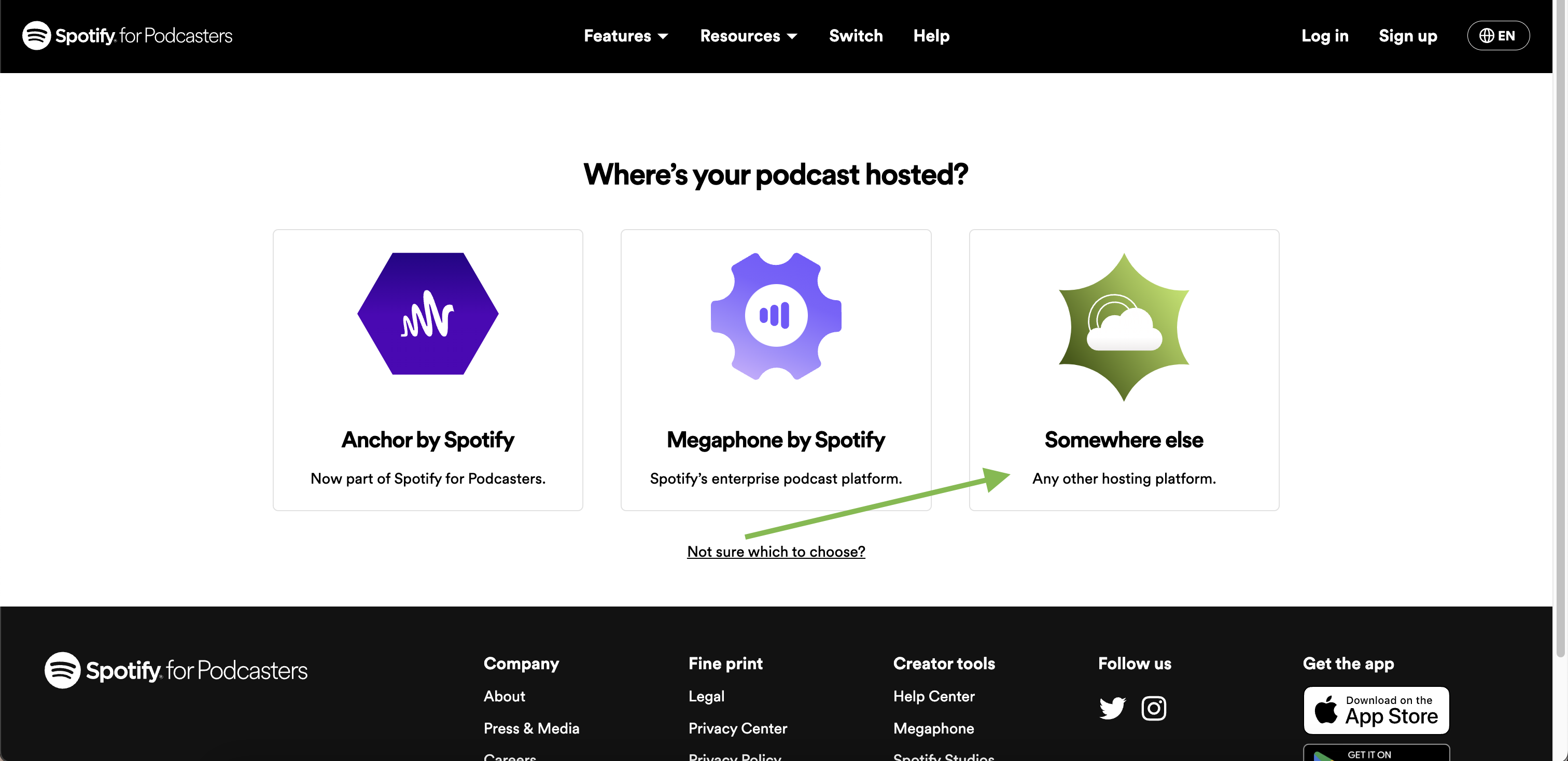 3. Select your account in the top left corner of your screen
4. Select 'Add or claim your podcast'

5. Select 'Get Started'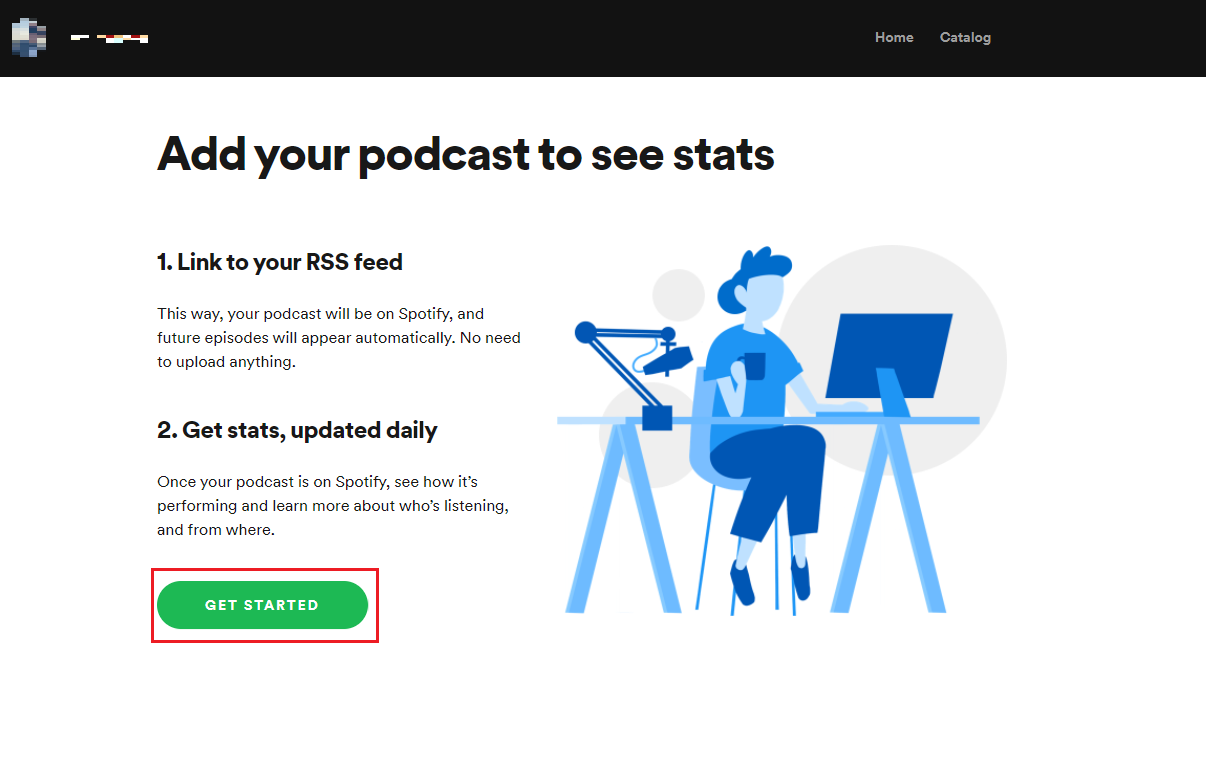 6. Enter the RSS feed of your podcast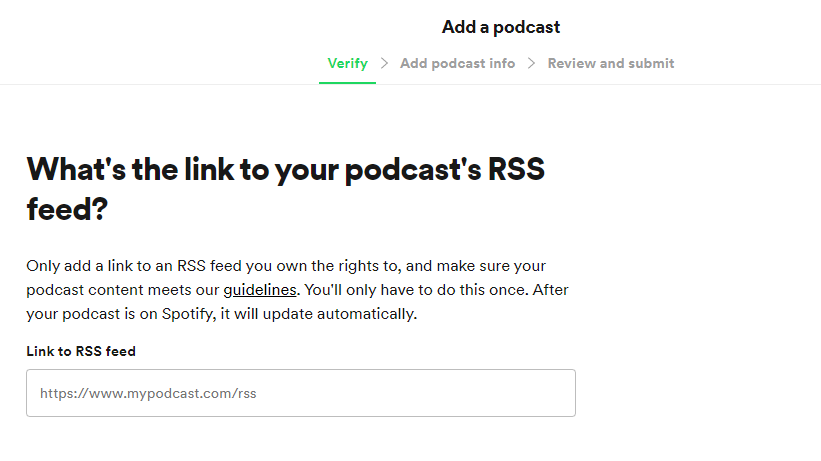 7. If your podcast is already on Spotify, you will receive a notification that says: 'Your podcast might already be on Spotify'. Select 'next'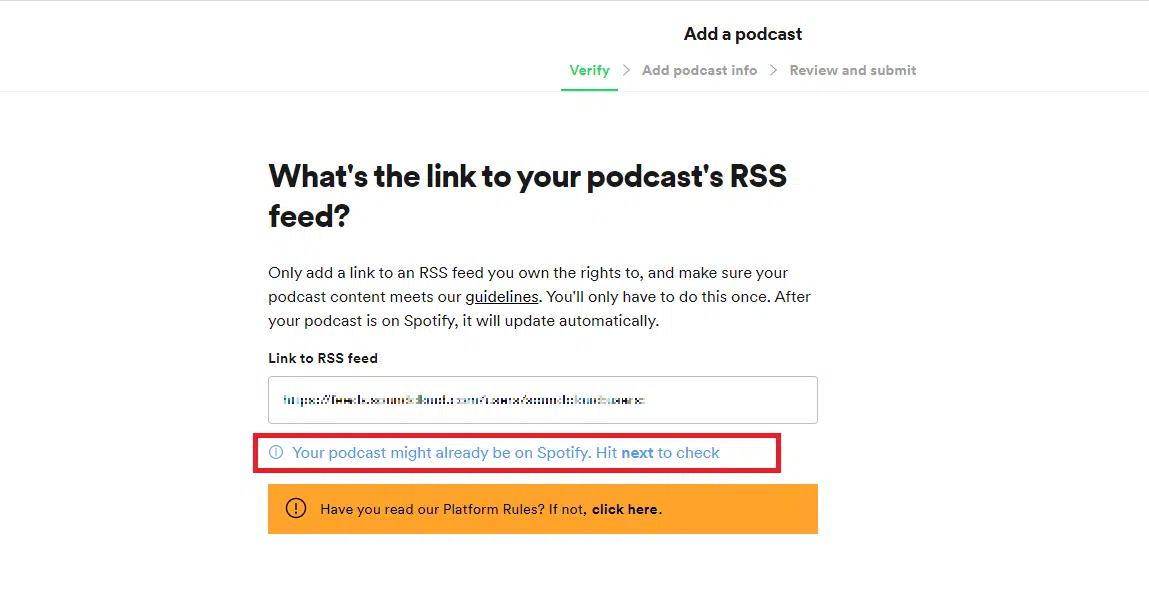 8. Check if this is your podcast
9. Select 'next' to claim your podcast
10. Spotify will now send a verification code to the e-mail address linked to your RSS feed. Enter the code
11. Add category, language and country
12. Review all the details and select 'submit'
13. All information about your podcast will now appear in the Spotify for Podcasters dashboard.
Your podcast has now been claimed! 😉