Welcome to Springcast! We're delighted to have you here. So you'd like to move to Springcast, but you're podcast is still hosted with SoundCloud. In this article, we'll guide you through the move.

Before you import your podcast with us using the RSS feed link from SoundCloud, you should check if your podcast episodes, your email address and category have been added to your RSS feed from SoundCloud.

Allright, let's move. Follow the steps below and you're good to go.
Step 1: Check if your episodes have been added to your RSS feed
1. Select the name of your podcast at the top of the SoundCloud dashboard
2. Select 'Tracks'.
3. Here you will find your list of tracks. You can check every individual track to see if it is included in the RSS feed, but it's much faster to check the tracks at list level.
Step 2.1: Add tracks at list level
1. Select which episode you want to check or tick the box under 'your tracks' and then select all
2. Select 'Edit tracks' and select 'Rights'
3. Select which tracks you wish to check or select all (in the example above we've selected all tracks)

4. Check whether 'Include in RSS feed' is ticked. If not, do so.
5. If you've checked the boxes, the episodes will be included in your RSS feed. Are they already checked? Then the episodes are already included in your RSS feed and will also be included when you import your podcast to Springcast.
Step 2.2: Adding individual tracks
Would you rather check every individual track? Then follow this step-by-step plan:

1. Place the cursor on the specific track in the list 'Your tracks'.
2. A bar with options will appear, select the pen
3. Select 'Rights'.
4. Tick 'Include in RSS feed', if this is not already ticked

Step 3: Add category and e-mail address to RSS feed
You can submit this in your SoundCloud account. Here are the steps:

1. Go to your account settings (top right on the three dots)
2. Choose Content and select an email address under 'Email address Displayed' and add a category under 'Category'.
3. Check 'include in RSS feed' if this has not yet been done. If it is already checked, a category and email address have already been added

Here is an image of what this looks like: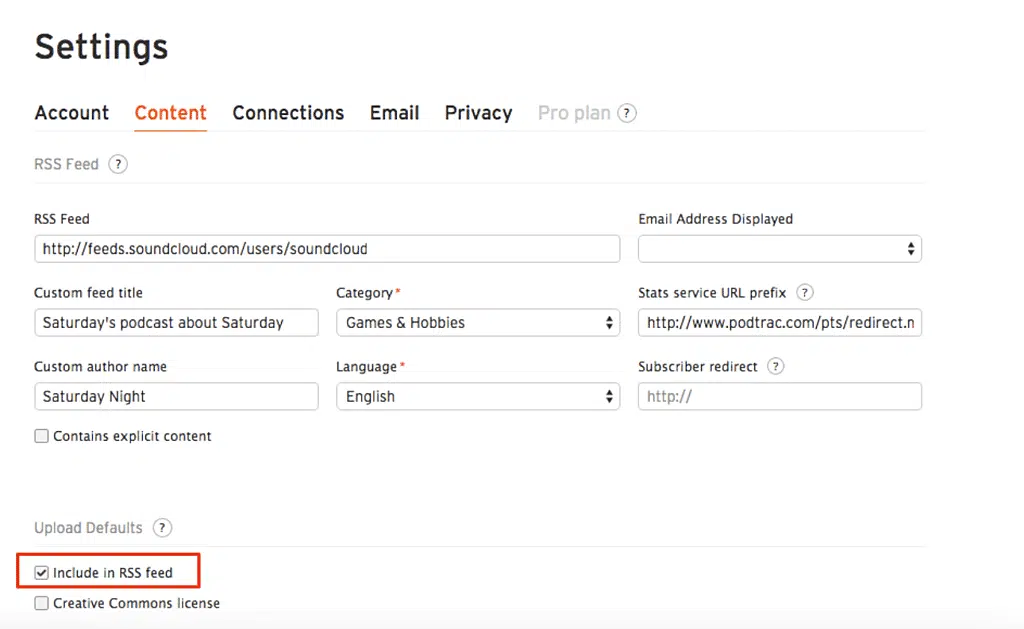 Step 4: Start your import to Springcast
So, after you've added your episodes and category to your RSS feed, you can start the import.
Log in to Springcast
and choose import podcast from the start screen.
Step 5: Export statistics
SoundCloud does not have a function to export statistics.
If you would like to save your Soundcloud statistics, take screenshots of the most important ones. This way they won't be lost forever.
Step 6: Report the move to SoundCloud

NOTE: After placing the redirect, the
episode level
statistics in Spotify for Podcasters will be set to 0. If you want to keep these statistics, make sure you make an export before you place the redirect. Your general show-level data, such as streams, listeners, and followers, will be retained after placing the redirect.
You can do this in your SoundCloud account by using a 301 redirect. Here are the steps:

1. Go to your account settings (top right on the three dots)
2. Choose Content and paste your new Springcast RSS feed under 'Subscriber redirect'
3. Save settings
Step 7: Submit your new RSS feed to Spotify, Apple and Google
You're move is now complete! Please submit your RSS feed from Springcast to Spotify, Apple and Google so these apps display the correct feed.
Log in to Spotify for Podcasters and
follow these steps.
Also adjust your feed in
Apple Podcasts Connect
and
Google Podcasts Manager
.
Still new to Spotify, Apple and Google? We've written a step-by-step guide to submit your podcast on
Spotify
,
Apple
and
Google.
Make sure you have an existing email address linked to your RSS feed. Verification codes will be sent to this address.
Step 8: Close your SoundCloud account
We advise you to not close the SoundCloud account immediately, but 2 weeks after the move. This gives the directories time to direct listeners to the correct (new) feed.
It's also good to know that SoundCloud...
💡 Only allows you to choose one category for your podcast. After moving to Springcast you can add two more ;) This will also make you easier to find in search engines.
💡 Allows a maximum of 450 episodes in its RSS feed. Are you planning on moving more episodes? Please contact us and we'll see what we can do for you.
Still have some questions regarding importing/moving your podcast to Springcast? Feel free to contact
our support!